The Molehill, The Towers and Gardens of Antiquities and Louie's Rock Garden
Louis C. Wippich 1896-1973
Built 1949-1973
Private property, artist deceased
Sauk Rapids, MN
It was storming like crazy when I headed out to find the Molehill.  Luckily, the weather broke for about 20 minutes as I ran around the perimeter shooting photos. (No one was home, and I am hesitant to trespass)
Folk art environment, "The Molehill" has been called a "folk folly" but it is much more than that.  Built over 25 years by Louis Wippich, a former worker for Great Northern Railroad (connecting Seattle to St. Paul) .  Perhaps he was under the influence of the rugged landscapes in the West and Southwest…but whatever drove him, his creation is truly inspirational.
Wippich  was a Theosophist, writing books on his interpretations of the principles, which believes in the infinite possibilities inherent in mankind, the ability of each soul to become divine directly, without interference of gods or hierarchies.  Perhaps the gardens were a manifestation of these beliefs?
The home environment with towers and temples, pools, bridges and grottos, were all built with scrap granite from nearby quarries. The largest structure, a 45 foot tower, has been described as "remarkably close to several designs by Bruce Goff. (Guide to the Architecture of Minnesota, by David Gebhard, and Tom Martinson.)
This amazing backyard environment looked like it may have started with a large lily pond and garden, but the Wippich started to take his creation in a different direction.  He started to pile large field stones into "mountains" over a part of the pond and adding huge granite posts or towers, defying all sense of common sense.  Mostly he worked alone, sometimes hiring the local kids to help move some of the bigger stones.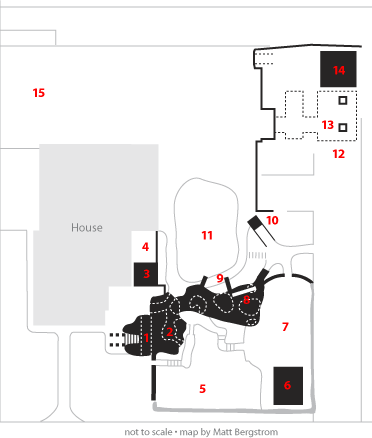 Legend
Sunken Garden
Temple Lawn
The Pulpit
Lily Pond
Former Site of Wippich House
Flower Garden
*******************************